Details That Can Turn Your Patio Into a Great Place for Entertaining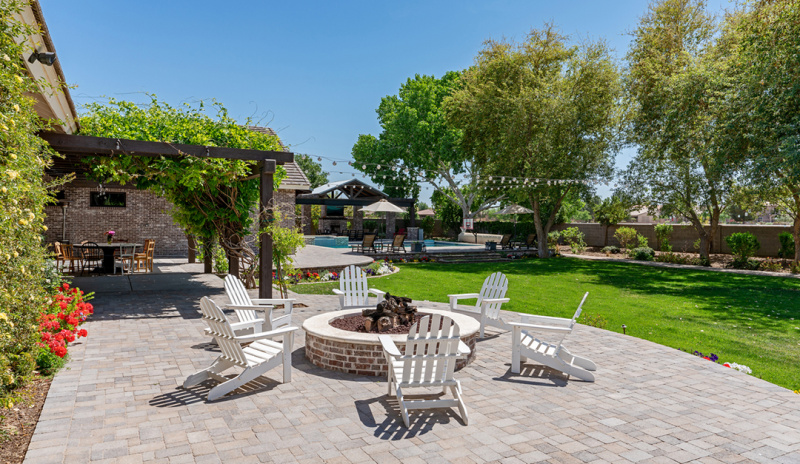 With summer officially underway, it's an ideal time to give outdoor entertainment spaces a facelift. Whether the goal is to spend quality time with immediate family or to invite a few friends over for drinks, outdoor entertaining is very popular. There is nothing more pleasant than being able to enjoy a fresh breeze on a hot day from the comfort of your own patio.
Related: 8 Patio Upgrades That Will Add Sparkle to Your Summer
From comfortable seating to safe and attractive railings, here are a few key upgrades that will turn even the most basic patio into a relaxing and appealing outdoor lounge area:
Furniture
One of the most straightforward ways to update a patio is to purchase an outdoor furniture set. Next to style, durability is the most important factor when purchasing outdoor furniture. Treated aluminum and wood are popular materials, as is wicker, which can easily be coated with custom waterproofing oil. Canvas cushions can add comfort to simple metal chairs, while glass tables are both attractive and designed to last for years. You can buy furniture covers as well, providing additional protection against adverse weather, especially in seasons when the patio is not in frequent use.
Railings
Another key upgrade is your railings. You want to make sure that your deck or patio's railings are both attractive and secure. Loose railings can lead to a slip and fall accident, and they may even cause someone to fall off the deck itself.
Glass baluster deck railings are good choices if you're redoing the railings on your deck. Stylish and secure, these railings allow kids and pets to admire the view beyond the patio, without risking injury by falling off. In fact, falls are the leading cause of injury in children, so reducing that risk while simultaneously adding visual appeal is a strong argument for looking into a glass baluster deck railing online. They're also weatherproof and easy to clean, making it an investment that'll stand the test of time.
Outdoor Kitchen
Of course, no entertainment space would be complete without a section dedicated to food and drink. An outdoor kitchen and bar area immediately elevates any patio area. Whether a simple barbecue and cocktail corner furnished with removable shelves and counters, or a more elaborate built-in bar-top complete with a full kitchen, guests will appreciate being wined and dined while still enjoying the fresh air.
Plants
Flowers, herbs and trees can finish off what's now an otherwise perfect outdoor entertainment area. Planters, small and large, can be strategically placed to add shade and color. The planters themselves come in all styles, from classic terra cotta to modern metal cubes, and they can hold everything from manicured hedges to lushly flowered vines. Moreover, unlike designing a yard, these planters can be easily moved, allowing for constant updating and adjustment to keep things fresh.
Moving dinners or parties outdoors adds a welcome surprise for your friends and family. Update your deck or patio to improve this experience for your guests. Also, be sure to adhere to your local reopening guidelines as we continue to navigate the COVID pandemic.
Anita Ginsburg is a freelance writer from Denver, Colo. She studied at Colorado State University and now enjoys writing about health, business, and family. A mother of two wonderful children, she loves traveling with her family whenever she isn't writing. If you're trying to improve the look and safety of your patio, she recommends looking at a glass baluster deck railing online. You can find her on Twitter @anitaginsburg.