Mood-Boosting Tactics for the Winter Months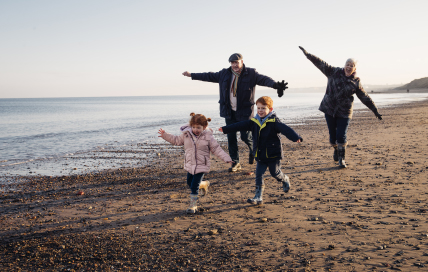 Hopping on a plane for a tropical beach vacation is a surefire way to beat the cold-weather blues, but there are several much simpler—and less expensive—ways to boost your mood when chillier days set in. Try a few of these serotonin-lifters…

Achieve some simple goals. Many use winter as a time to embark on big goals, such as learning to play an instrument or taking up a new exercise routine. Setting and achieving small goals, however, may serve you better when it comes to lifting your mood, as getting things done produces a jolt of serotonin. Work on some easily attainable goals this winter, such as cleaning out a closet, organizing your photos or refinishing a piece of furniture.

Stock up on cold-weather busters. Be sure to outfit your home with a few luxuries to get you through the winter in comfort, from cozy loungewear and furry throws to a patio heater or large-screen TV for at-home movie nights.

Get some early-morning light. Exposure to sunlight is a proven way to stave off winter blues, so be sure to spend some time outside, especially in the morning light. Even if it's overcast, a 15-minute walk outside will increase your Vitamin D level along with your mood.

Create sensory comfort. Something as simple as a scented candle can help improve your mood during the winter doldrums. You can also try essential oils and activities like baking to fill your home with calming and uplifting scents.

Declutter. You don't have to go on an all-out overhaul in order to take advantage of the mood-boosting attributes of decluttering. Organizing a bookcase, your dresser drawers or your kitchen cabinets can work wonders when it comes to positive vibes.

Do something for someone else. One of the best ways to improve your mood is to do something kind for someone else. Volunteer at a local soup kitchen, grocery shop for an elderly neighbor or spend some time reading to schoolchildren. Even a small act of kindness, like letting the coffee shop cashier know they're doing a great job, can send a positive ripple effect in both directions.

Adapted from an article published by Real Simple



This material is meant for general illustration and/or informational purposes only. Although the information has been gathered from sources believed to be reliable, no representation is made as to its accuracy. This material is not intended to be construed as legal, tax or investment advice. You are encouraged to consult your legal, tax or investment professional for specific advice.




Click on any icon below to share this article:

RISMedia welcomes your questions and comments. Send your e-mail to: realestatemagazinefeedback@rismedia.com.


Copyright© 2022 RISMedia, The Leader in Real Estate Information Systems and Real Estate News. All Rights Reserved. This material may not be republished without permission.