3 Reasons to Buy a House with an Unfinished Basement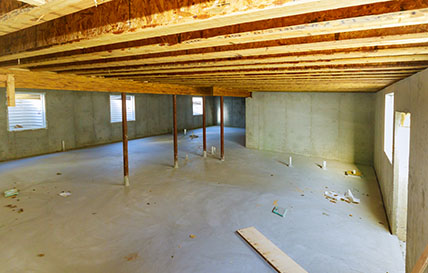 When looking for your new home, you may come across properties with both finished and unfinished basements. There are several advantages to choosing a house with an unfinished basement.

1. Get a Great Deal
As you'd expect, a house with a finished basement will generally sell for a higher price than a comparable one with an unfinished basement. If most houses for sale in the area have finished basements, the seller of a property with an unfinished basement may be willing to accept less than asking price.

If you buy a house with an unfinished basement, you may be able to get more square footage than you would be able to afford if you focused only on those with finished basements. You can finish the basement, quickly build equity and pay less overall than you would pay if you bought a similar house with a finished basement. If you sell the house in the future, you may get significantly more money than you paid for it.

2. Create the Home of Your Dreams
If a previous owner finished the basement, the work was done based on what that homeowner wanted, which may not be what you want. He or she may have installed a home theater, for instance, but you may prefer an additional bedroom if you have a large family.

If you have a specific vision in mind for your future home, you may not be able to find what you're looking for. An unfinished basement gives you the opportunity to create the home you want, instead of searching for a needle in a haystack. You may be able to convert the basement to a family room, office, game room or home theater, or turn it into a separate apartment for an elderly parent to live in.

3. Detect Problems Before You Buy
The previous homeowner may have cut corners when finishing the basement. For example, the owner may have hired a friend to perform renovations instead of working with a licensed contractor, or the work may not be up to code. If so, that may create problems for you in the future. If you have a basement finished yourself, you can make sure the job is done properly.

A house with an unfinished basement may not be as attractive as others, but if you look at it in terms of cost savings and the ability to customize the property to your liking, you may decide that buying a house with an unfinished basement is actually a great idea.

Source: Adapted from an article published by RISMedia



This material is meant for general illustration and/or informational purposes only. Although the information has been gathered from sources believed to be reliable, no representation is made as to its accuracy. This material is not intended to be construed as legal, tax or investment advice. You are encouraged to consult your legal, tax or investment professional for specific advice.




Click on any icon below to share this article:

RISMedia welcomes your questions and comments. Send your e-mail to: realestatemagazinefeedback@rismedia.com.


Copyright© 2022 RISMedia, The Leader in Real Estate Information Systems and Real Estate News. All Rights Reserved. This material may not be republished without permission.