Most Popular Backyard Upgrades People Are Making Now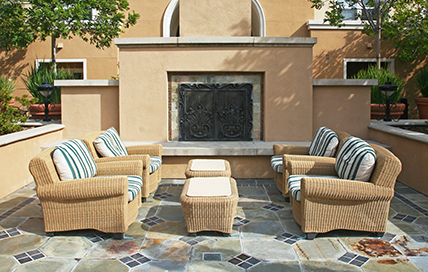 If there is one thing the global pandemic has left us with, it's the realization that home is where the heart is. Millions of Americans have been on the move in search of more space or amenities. But millions more are seizing the moment to upgrade the homes they live in. Here are five of the most popular backyard projects with tips on costs and installation.
Landscape Design - Since the pandemic began, there has been soaring interest in gardening across the board. Now, many homeowners are seeking a more pleasing design. Experts say the average landscape project in the U.S. costs between $1,000 and $5,800.
Fence and Gate Installation - While some are more than ready to invite people in, most people want boundaries as well and the installation of gates and fences is the second-most popular yard project. For many, the big decision is whether to use wood or vinyl. Since the lumber shortage has caused soaring wood prices, the gap in cost between them is narrow, plus vinyl lasts longer. Considering materials, labor and the size of the yard, this project could cost between $475 for a simple gate and $7,000 for all-around fencing.
Play Equipment - Installing swings, slides, tree houses and other play equipment is understandably popular. Experts say, unless construction is one of your strong suits, hire someone to do the installation. It should cost no more than $300 or $400.
Patios and Patio Additions - Cookouts are nicer under a covered patio. The cost for building a new patio is about $2,500. Covering an existing patio will vary in cost depending on size and features, such as permanent or retractable covering.
Gazebo - If you dream of reading or listening to music in the shade of your own gazebo, prepare to spend between $5,000 and $10,000, depending on size. Check local ordinances, too, as a permit may be required for this lovely backyard amenity.
*Adapted from an article published by RISMedia



This material is meant for general illustration and/or informational purposes only. Although the information has been gathered from sources believed to be reliable, no representation is made as to its accuracy. This material is not intended to be construed as legal, tax or investment advice. You are encouraged to consult your legal, tax or investment professional for specific advice.

Click on any icon below to share this article:
RISMedia welcomes your questions and comments. Send your e-mail to: realestatemagazinefeedback@rismedia.com.
Copyright© 2022 RISMedia, The Leader in Real Estate Information Systems and Real Estate News. All Rights Reserved. This material may not be republished without permission.