October Is National Cybersecurity Awareness Month
By Barbara Pronin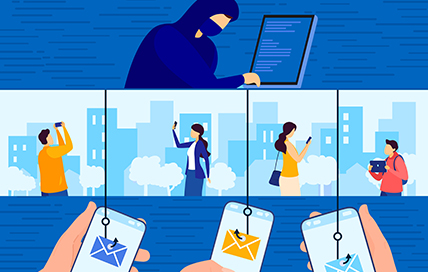 Technology has been a driving force behind many advances in title and escrow services. Even before the COVID-19 pandemic, lenders and title professionals were testing and using e-closing and remote online notarization.

Today, as such transactions—and the communications behind them—become more commonplace, so does the risk of loss caused by phishing and other scams dreamed up by wily cybercriminals. In fact, since the onset of COVID and related remote work changes, cyber fraud has increased more than 500 percent, according to FBI data.

Wire fraud occurs when a hacker obtains enough information to pose as someone trustworthy who is involved in a closing. The client—usually the unsuspecting buyer—is contacted electronically and told, "there has been a change in the wiring instructions" or "please send the following amount by wire ahead of the closing." But the information is fraudulent and, if the money is sent, it is almost always lost.

That is a major reason why the government, industry and the private sector partner each October to mark National Cybersecurity Awareness Month.

As cybercriminals become more proficient, we must consistently communicate the danger to our customers and reduce vulnerability to all by enforcing a comprehensive risk management program.
Teach staff how to spot fraudulent emails before opening


Double check the email address to see if it is valid. Look for signs like incorrect grammar or one letter off, such as 'pavpal' instead of 'paypal'.
Never open an attachment within an email unless you are expecting it.
Use caution before opening any file or clicking a link in an email. If unsure, call the sender to verify.
Use strong passwords and change them often

Use two-step verification wherever it can be incorporated, such as an extra PIN, answering a predetermined security question or a biometric identifier, such as a fingerprint or facial recognition

Instruct all parties of a transaction to call and verify before wiring funds
It is crucial to buyers and sellers, and all the professionals involved in a real estate transaction, that we take seriously our role as guardians of confidential information. We will continue to incorporate the highest standards to safeguard the transfer of funds.

Barbara Pronin is an award-winning writer based in Orange County, Calif. A former news editor with more than 30 years of experience in journalism and corporate communications, she has specialized in real estate topics for over a decade.



This material is not intended to be relied upon as a statement of the law, and is not to be construed as legal, tax or investment advice. You are encouraged to consult your legal, tax or investment professional for specific advice. The material is meant for general illustration and/or informational purposes only. Although the information has been gathered from sources believed to be reliable, no representation is made as to its accuracy.




Click on any icon below to share this article:

RISMedia welcomes your questions and comments. Send your e-mail to: realestatemagazinefeedback@rismedia.com.


Copyright© 2023 RISMedia, The Leader in Real Estate Information Systems and Real Estate News. All Rights Reserved. This material may not be republished without permission.