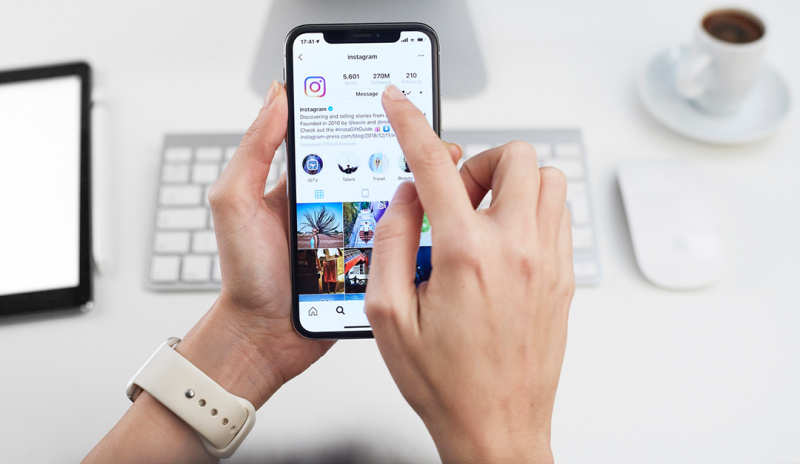 10 Ways to Sell the Instagram Aesthetic
The emergence of social media in our personal and professional lives encompassed a branding term all of its own: the aesthetic. To put it casually, it's the vibe your social media pages convey at a quick glance. In a digital era where quick glances can make the difference between a follow or a skip, creating a unique, personality-driven aesthetic across all social platforms is key. Instagram, specifically, offers a clean-slate platform that is meant to be a personalized representation of your business, brand and services.
Instagram aesthetics have evolved into so many specific types and niches over the years with their own subgroupings that it's enough to make your head spin: minimalist, dark and light academia, monochromatic, retro-vintage, cottagecore…the list is endless. Though specific generational niches like Y2K pop punk or grunge might not be the way you'd like to promote your real estate brand, but hey, the possibilities are yours and they might give you the standout, desired effect you're after.
Whether you're running a personal agent blog or a brokerage's account, here are 10 ways to leverage your Instagram profile to promote your brand:
1. Create a Consistent Identity
An easy way to craft your Instagram aesthetic is by first determining who your target audience is and the mood you're trying to convey. From color scheming posts and stories, to certain messaging (are you cool and casual or more formal and composed?), to your willingness to be a personality people see everyday, there are many ways to portray consistency and predictability. For example, if you've established your aesthetic is pastel colors and fun, lighthearted energy, then you suddenly switch it up to moody, low exposure content with bold graphics, your audience might be saying, "huh?" Find a niche that fits your brand and stick to it.
2.
Style the Sell
As much as you're selling yourself as a credible REALTOR® or broker, the big sell is always real estate, of course. When you're listing homes and properties on Instagram or Facebook, get creative with graphics to make the listing standout. Apps like Canva can turn a photo of a home listing into a visually exciting graphic by including stylized, text fonts with all the basic information you need, while also keeping the layout theme cohesive. Since the app is template-based, you don't have to be an expert to create a graphic, and it has a ton of free features.
3.
No-Frills Filters
A big mistake when it comes to photo editing is also the most convenient one: using Instagram's own filters. As tempting as it is to edit right on the app before you post, Instagram's filter presets can look a little antiquated and don't give you a ton of styling options. The current trend is a less-is-more mentality. There are a ton of free-editing apps like Lightroom and VSCO that contain simple presets that make photos look professionally edited, but natural. Pro-tip: If you like how another page looks, but don't know how to achieve the same color/edit scheme, see if that user sells their presets on Lightroom or another editing app for you to use that you can download and use.
4.
Story Is Telling
Instagram Story is built to help brands share quick photos, videos and information with followers to spotlight what makes them unique. Because they disappear after 24-hours, a Story is a great way to test an idea or theme, share Pinterest mood boards, answer frequently asked questions, create and run a poll through the sticker features and much more. Keep your Stories familiarized by using the same fonts and color palettes you use for postings. Apps like Unfold offer design templates to help you create neatly formatted collages for Stories and it's super easy to use.
5.
Highlights
Probably the most advantageous feature to launch on Instagram in the last few years has been the Highlights feature. Now, you can keep an archive of Stories that live right on your profile page. Highlights offer an additional design element that helps you further aestheticize your profile. For example, say you want to include a Highlight for "New Listings," your Highlight cover, or the little icon that goes with the Highlight, might include a graphic of a home so people know exactly where to go, which you can make using Canva or other design apps.
6.
On Grid
We get that not everything can be perfect…or can it? Take the guessing out of 'will this look good?' by using apps like Planoly and Instasize to both measure and plan postings. Both apps offer features that connect to your Instagram account to see what a potential post would look like in grid format. These apps also allow you to schedule postings, so if you're a type to forget or need a reminder from time to time, it is a perfect organizational tool for you to plan a bunch of postings at once and watch as the work is done for you.
7.
Dump It
Photo dumps are making a huge comeback. In case you didn't live in the slightly embarrassing, 2012-era Instagram, photo dumps are essentially a hodgepodge of photos, videos, etc. that are contained in one, carousel post. If your Instagram aesthetic caters to more personal branding, it is a great way to show people who you are outside of work in a fun, contemporary way. Make it useful to the potential buyer by using this format to illustrate highlights in any given property, provide educational stats and information, to give construction updates, or show off friendly faces in the office.
8.
Make Meme-ories
Another way to create a dynamic, aesthetic Instagram is a loose-term called "breaking up" posts. "Breaking up" essentially entails that you utilize the Instagram grid's three-photo layout pattern through differentiated color coordination and/or content organization. A fun way to break up personal photos or property listings on your grid is creating memes around shared-realtor experiences. Create memes on imgflip.com or third party apps like Canva that fit your aesthetic but also keep your profile engaging and fun.
9. Doing It Live
One of the few upsides from the pandemic is that you don't necessarily need to be in-person to conduct business. Real estate has proven to be no exception. Instagram Live is an amazing tool for REALTORS® to show off properties and conduct virtual tours. Prospective buyers can throw questions into the comments section while you're on Live for you to answer on the spot like you would if you were showing off a home in real time.
10.
Embrace Trends
Don't be afraid to break out from your normal. From exploring with IG Reels to posting a dance trend from Tik Tok, your profile can always benefit from ephemeral content. Using the right hashtags alongside these trends can give your profile the visibility boost it needs, and there is nothing wrong with a little levity from time to time.
Joey Macari is RISMedia's associate editor. Email her your real estate news ideas at jmacari@rismedia.com.
Copyright 2021 RISMedia, The Leader in Real Estate Information Systems and Real Estate News. All Rights Reserved. This material may not be republished without permission.